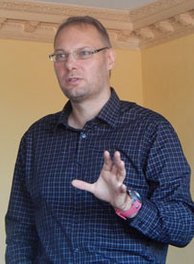 Lars Bo Hansen
lars@orlandochesshouse.com
International Grandmaster in Chess (GM)
Business Professor
MBA • PhD • Author • Coach
Some highlights from my chess career:
- Florida State Champion 2012 and 2013
- Olympic Bronze Medalist
- Former top 100 in the World
- Winner of five Danish National Championships
- Winner of three German Team Championships
- Winner of 20+ International tournaments
- Represented my native Denmark at six Chess Olympiads
- National Head Coach and Captain of Denmark's National Team
Being a full time Business Professor, my time for chess is limited so I am using it wisely. At the this time, the only coaching I do is the Advanced Online Class and the monthly Master Workshop.
As a chess coach, I emphasize providing students with a sound foundation of knowledge and skills in chess, just as in my university role.
The relationship between my two careers also goes in the opposite direction. In my research at Florida Tech, I am currently working on several projects that draw on chess.